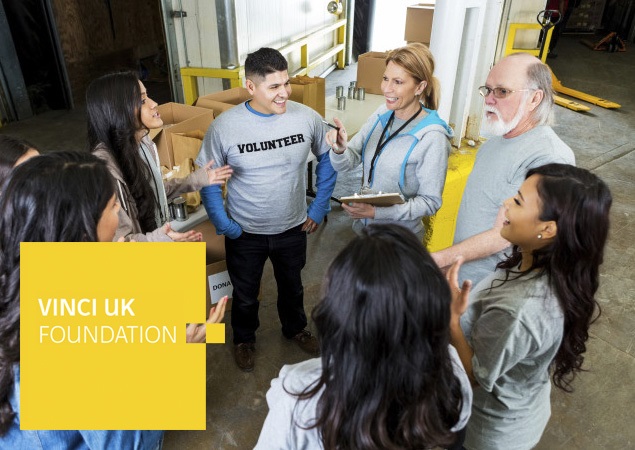 VINCI businesses across the UK will partner with local charities to help battle social exclusion by improving access to employment, mobility and housing. As well as providing over £190,000 in grants, employees of VINCI businesses will give up their time and expertise to support good causes in their area.
The VINCI UK Foundation, funded by VINCI businesses across the UK, supports groups and charities which work to tackle exclusion, foster community integration and improve access to employment and housing. Launched in early 2016, the foundation is unique in its support for good causes due to its specific focus and provision of skilled volunteers.
Grants awarded help charities to purchase or upgrade assets such as tools and equipment or ICT and facilities refurbishment, which in turn benefits some of the most vulnerable people in society.
Rochdi Ziyat, Board Director, VINCI UK Foundation and CEO, VINCI Energies UK & ROI, said:
"The support provided by the staff at VINCI's businesses, as well as the generous funding grants provided, is what sets the VINCI UK Foundation apart as a supporter of community cohesion."
For a second year, the Foundation will make a real difference to the lives of the most excluded in society and help to strengthen communities across the UK.
Projects receiving support include:
Solihull Children's Special Needs Association – Awarded £10,000; the VINCI Energies project sponsor will help to upgrade a specialist play area for children with special needs.
Church Action for The Homeless (CATH) – Perth-based charity will receive £10,000 towards buying a multi-purpose vehicle for use in helping to resettle homeless people into secure accommodation and offering a transport link for vulnerable service users.
Blue Apple Veterans – Warrington-based charity supporting military veterans awarded £17,493; project sponsors from Nuvia will support the project using their marketing and project management expertise.
Through the Foundation, all VINCI's employees, from apprentices to senior management, can use their experience and skills to benefit their local communities.
Businesses supporting the Foundation include VINCI Energies UK & ROI, VINCI Construction UK, VINCI Concessions, Eurovia, Bachy Soletanche, VINCI Construction Grands Projects. Nuvia and Freyssinet.
More details can be found at www.vinci-uk-foundation.co.uk.