Driving innovation across the industry
With technology evolving at such a rapid pace, Bachy Soletanche is determined to be at the forefront of industry innovation and digitalisation.
We are conscious that the construction industry can at times be slow to react to change, however at Bachy Soletanche, we are committed to embracing digital tools to ensure we remain competitive and offer the best service to our clients. The drive to use digital technologies allows us to seamlessly record, access and share a wealth of data to drive more efficiency and innovation across the business. This approach helps to increase productivity, offer new opportunity, maximise safety and reduce our impact on the environment.
Digital solutions for operations
Our entire business has embarked on a digital transformation journey, with teams adopting digital tools to facilitate their day-to-day activities.
In the post-pandemic world, our priority is to develop and implement digital tools across every area of the business – from estimating and design, to HR and Finance. The aim of this technology is to help us work in a streamlined and collaborative way, incorporating big data to make informed decisions.
Some of the tools we are using include:
ZETTA-LYZE
Zetta-LYZE (ZLYZE) is a web application developed by Soletanche Bachy for the management of pile records, currently available for CFA/CSP/SMX piles.
Replacing the original pile records database, this innovative tool provides a smarter and more efficient way to monitor site information and automatically collect data. The application is easy to use and allows accurate data input.
Zetta-LYZE offers many features that increase efficiencies on site:
allows operatives to visualise pile layout through a modern interface, sequentially plan targeted piles, review as-built records and analyse the instrumentation of data graphs
provides real-time monitoring of progress and quality through data analysis
offers data analytics to support tender submissions, design and operational improvements
sends a simplified pile schedule to the Jean Lutz DIALOG system, allowing rig operators to easily enter pile name information
TiPS – TIME AND PRODUCTIVITY ON SITE
The TiPS platform drives reporting efficiencies and helps our team to record key elements of their daily worksite tasks, including:
equipment (major plant) productivity
shift diary
timesheets
TiPS is a highly configurable web tool that has been optimised for multiple devices including laptops, tablets and smartphones, for use in the office or while out on site, allowing the business to track time and productivity across all of our sites. The easy-to-use and clean interface captures all information in a single place, to centralise reporting, the system also includes Power BI integration for more advanced analytics.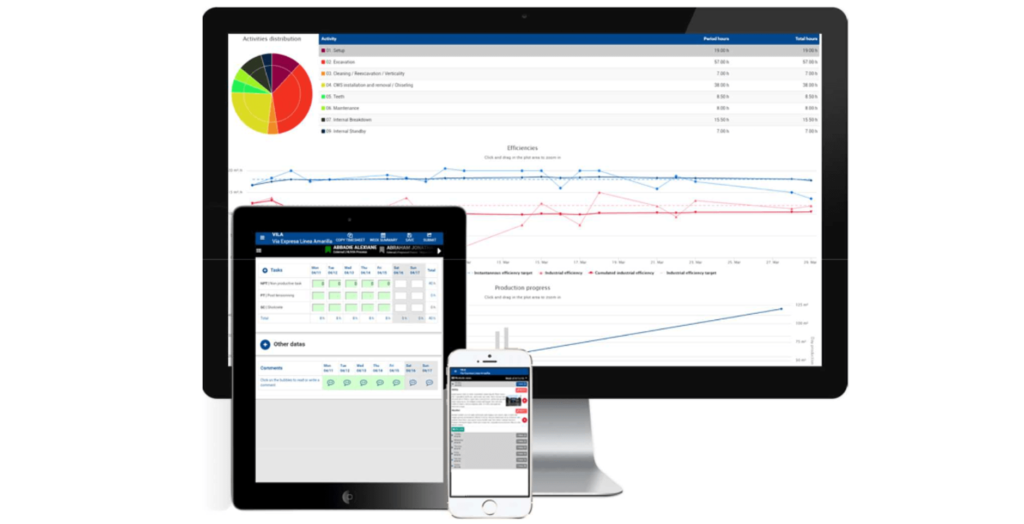 Business Improvement Ideas
We adopt a collaborative approach to business improvement and work closely with stakeholders to encourage the development of innovative and sustainable solutions that can be implemented throughout the organisation.
In addition to the above, Bachy Soletanche employees can submit proposals to improve business practices and reduces the company's environmental impact. The exhaust emissions programme and cage tamp tool are recent examples where solutions have been developed in-house.