Driving innovation across the industry
With technology evolving at such a rapid pace, Bachy Soletanche is determined to be at the forefront of industry innovation and digitalisation.
We are conscious that the construction industry can at times be slow to react to change, however at Bachy Soletanche, we are committed to embracing digital tools to ensure we remain competitive and offer the best service to our clients. The drive to use digital technologies allows us to seamlessly record, access and share a wealth of data to drive more efficiency and innovation across the business. This approach helps to increase productivity, offer new opportunity, maximise safety and reduce our impact on the environment.
Digital solutions for operations
Our entire business has embarked on a digital transformation journey, with teams adopting digital tools to facilitate their day-to-day activities.
In the post-pandemic world, our priority is to develop and implement digital tools across every area of the business – from estimating and design, to HR and Finance. The aim of this technology is to help us work in a streamlined and collaborative way, incorporating big data to make informed decisions.
Some of the tools we are using include:
ZETTA-LYZE
Zetta-LYZE (ZLYZE) is a web application developed by Soletanche Bachy for the management of pile records, currently available for CFA/CSP/SMX piles.
Replacing the original pile records database, this innovative tool provides a smarter and more efficient way to monitor site information and automatically collect data. The application is easy to use and allows accurate data input.
Zetta-LYZE offers many features that increase efficiencies on site:
allows operatives to visualise pile layout through a modern interface, sequentially plan targeted piles, review as-built records and analyse the instrumentation of data graphs
provides real-time monitoring of progress and quality through data analysis
offers data analytics to support tender submissions, design and operational improvements
sends a simplified pile schedule to the Jean Lutz DIALOG system, allowing rig operators to easily enter pile name information
TiPS – TIME AND PRODUCTIVITY ON SITE
The TiPS platform drives reporting efficiencies and helps our team to record key elements of their daily worksite tasks, including:
equipment (major plant) productivity
shift diary
timesheets
TiPS is a highly configurable web tool that has been optimised for multiple devices including laptops, tablets and smartphones, for use in the office or while out on site, allowing the business to track time and productivity across all of our sites. The easy-to-use and clean interface captures all information in a single place, to centralise reporting, the system also includes Power BI integration for more advanced analytics.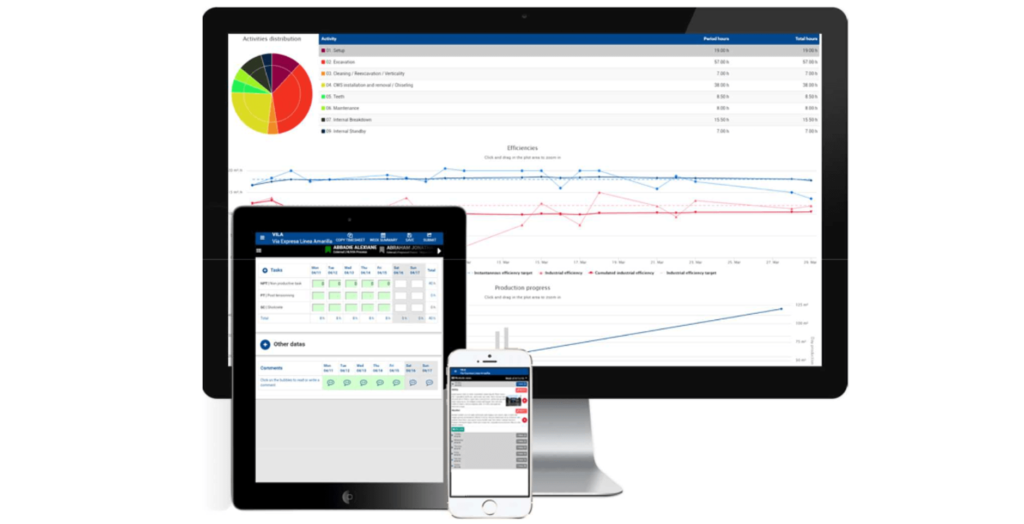 Centrale Pack
Centrale Pack is a cutting-edge application that allows project and site managers to map out a construction site using comprehensive 3D software.
Centrale Pack consists of two key components:
A Project Mode that allows users to create extensive site plans and installations quickly and easily in 2D or 3D. Users can create their plan from scratch or from an imported PDF site drawing.
A Training Mode that teaches users how to correctly assemble and dismantle plant through detailed 3D demonstrations and practical exercises.
The technology was designed by Soletanche Bachy and developed by Acreos. It is available in English, French and Spanish.
Casing Recovery Tool
Bachy Soletanche's site and plant yard teams collaborated to design and manufacture an innovative solution to retrieve segmental casing from a borehole that had been accidentally dropped by a casing oscillator. The casing recovery tool is a mechanical device comprising four outrigger arms that grip to the internal wall of the segmental casing to retrieve it from the ground.
This innovation provides a much safer method for casing recovery as it avoids the need to place an underwater diver into the bore and work at depth under bentonite support fluid to try and connect the necessary shackles and chains required to lift the segmental casing with a service crane. This solution is easily implemented on any site as the casing recovery tool's design allows direct attachment to a piling rig without the need for any specialist equipment.
This was the first solution of its kind to be implemented by a company in the construction industry. In 2021, it was shortlisted for two Ground Engineering Awards and won the Special Jury Prize in the VINCI Environment Awards.
CFA Auger Stem Cleaner
Alongside joint venture partners, Morgan Sindall and VINCI, Bachy Soletanche designed and fabricated an excavator mounted CFA (continuous flight auger) stem cleaning device. The advanced tool provides a safer method for unblocking a CFA stem blocked with concrete as it avoids the need for site operatives to work in the danger zone to manually unblock the auger, where they risk being sprayed with pressurised wet concrete. Bachy Soletanche has subsequently rolled out the stem cleaner for use on all of its CFA projects.
The stem cleaning device consists of an attachment that opens the CFA's concrete discharge cap (which is fitted on a CFA to prevent spoil from entering the hollow stem) before attaching a high-pressure water jet to clear out the concrete blockage. The team designed both an electromagnetic attachment, used for removing disposable concrete caps, and a spade ended attachment, for opening hinged caps. The device can be mounted directly on an excavator arm via a quick hitch adaptor and is completely self-contained, thus offering easy transportation.
Threaded CFA
Bachy Soletanche developed a threaded continuous flight auger (CFA) piling technique, which offers a similar level of productivity, load bearing capacity, and settlement performance to the traditional CFA method but with a lower cost and less impact on the environment.
Threaded CFA piles use approximately 30% less concrete compared to traditional 750mm diameter CFA piles, thus they significantly reduce spoil disposal volumes, further adding to the technique's environmental credentials.
To develop this solution, Bachy Soletanche designed a special cutting head with a retractable threading tooth to replace the normal cutting head located at the bottom of the continuous flight auger. Once the auger is screwed to the required depth, the threading tooth is extended to 750mm. The concrete is then pumped through the stem whilst the auger is being rotated and withdrawn from the ground, thus forming the threaded pile.
The minimal size of the mechanism, coupled with its powerful tool ejection system, ensures that the threaded CFA technique can be used in a wide range of ground conditions.
Cage Tamp
The Bachy Soletanche plant yard team designed and fabricated a cage tamp for installing steel cages to the required depth during the CFA piling process, which replaces the traditional method of using a vibrating hammer and diesel power pack.
In comparison to the traditional technique, the cage tamp is requires no fuel and releases zero greenhouse gas emissions into the environment. Additionally, it offers a zero noise, dust and vibration solution to cage installation. The steel cage tamp is also a safer option as it requires minimal manual handling and eliminates the risk of falling objects.
Using the cage tamp on one of Bachy Soletanche's projects prevented approximately 500 tonnes of carbon being emitted into the atmosphere and avoided 160,000 litres of fuel consumption. In addition to these benefits, the cage tamp's fabrication is easy, quick, and low cost with minimal maintenance required.
Business Improvement Ideas
We adopt a collaborative approach to business improvement and work closely with stakeholders to encourage the development of innovative and sustainable solutions that can be implemented throughout the organisation.
In addition to the above, Bachy Soletanche employees can submit proposals to improve business practices and reduces the company's environmental impact. The exhaust emissions programme and cage tamp tool are recent examples where solutions have been developed in-house.