Bachy Soletanche's recent technological innovations have been recognised with two 2023 EFFC (European Federation of Foundation Contractors) Health & Safety Awards. The awards are an annual competition to reward the most effective health and safety initiative implemented by a special foundations or geotechnical contractor in Europe. The aim of the awards is to share best practices in order to improve health and safety for workers in the industry.
In the 'Best Safety Tools and Technical Innovations' category, Bachy Soletanche received both the Gold Award, for its Auger Stem Cleaner device, as well as the Bronze Award, for its iGuard innovation.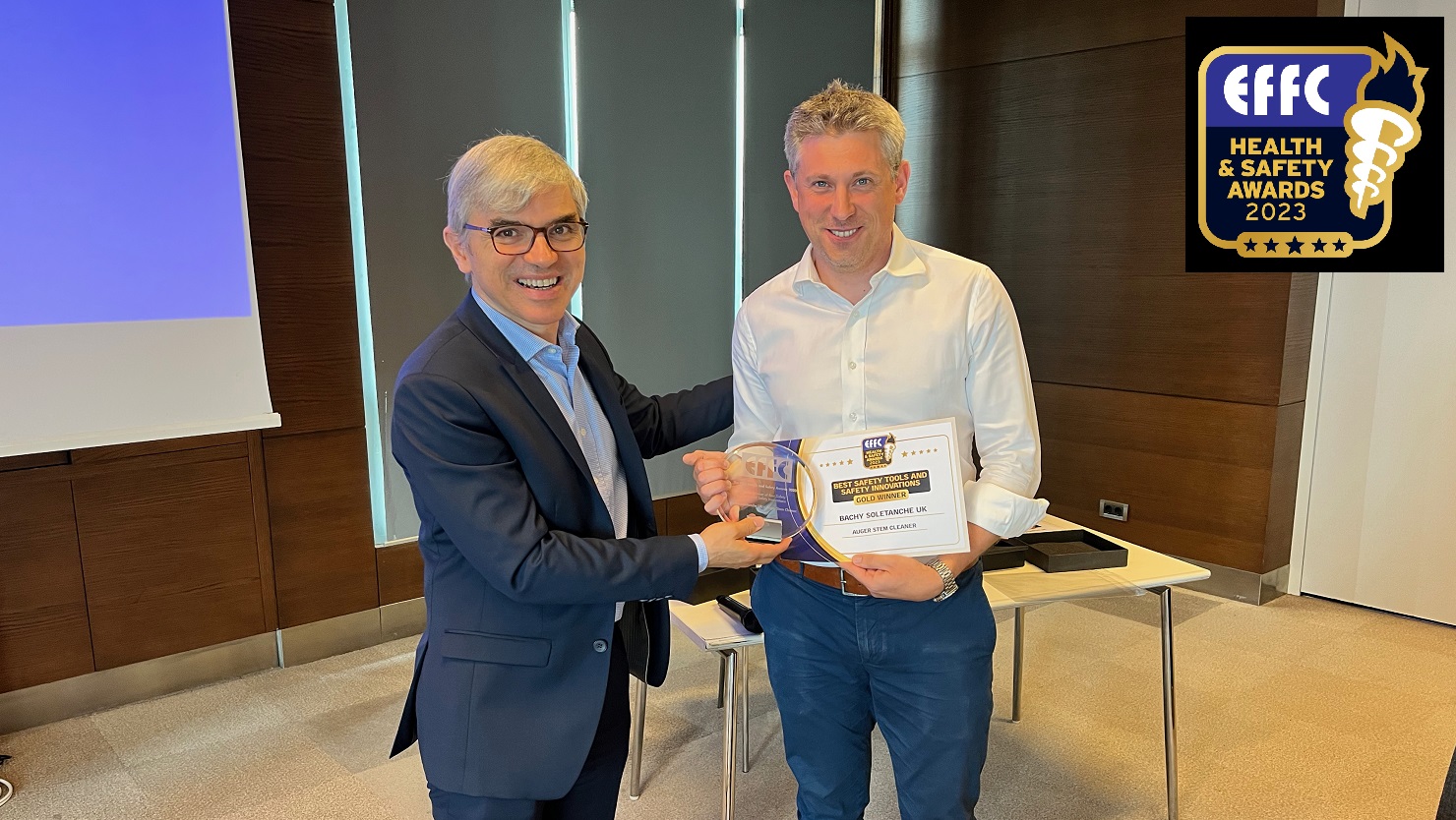 Auger Stem Cleaner
Bachy Soletanche's site and plant department teams collaborated to design an excavator-mounted CFA (continuous flight auger) stem cleaning device. This innovative solution removes the need for site operatives to work within the danger zone to unblock an auger. Therefore, it has eliminated the risk of operatives being sprayed by pressurised wet concrete as the blockage clears.
With regards to this innovation, the EFFC judges were impressed with the approach Bachy Soletanche took to an ongoing area of risk in the industry and the potential for the device to be used across Europe to improve safety on all sites.
iGuard
Developed alongside TSS2, the iGuard (Ignition Guard) is a multi-functional authorisation device that can be fitted to plant and workshop machinery, and only grants access to authorised and competent personnel. The system works in conjunction with a training programme to ensure employees are fully qualified to operate the equipment and also offers a sustainability benefit by gathering data on engine idling times.
The judges felt that the iGuard was an excellent use of technology to help ensure competent people are driving rigs. They hope it will encourage other countries and manufacturers to follow Bachy Soletanche's lead towards digitisation of working history and experience.
Industry recognition
Since their development, Bachy Soletanche's safety innovations have received a significant amount of industry recognition. The iGuard device won the Safety Innovation prize at the 2022 Federation of Piling Specialists (FPS) Awards, as well as the Health and Safety prize at the 2022 Ground Engineering Awards. In addition to this, the iGuard and Auger Stem Cleaner were both important contributors to Bachy Soletanche's success in winning Soletanche Bachy's Victor Safety Award 2022.
Commenting on the achievement, Bachy Soletanche's Managing Director, Tamás Kaltenbacher, said:
"We are very proud to have won two trophies in these prestigious health and safety awards. This is a testament to our team's consistent efforts to make our workplace safer, as well as their ongoing commitment to driving innovation within the industry."
This year's winners were presented with their trophies at an awards ceremony on 29th September 2023 in Istanbul, Turkey. Bachy Soletanche has also been given the opportunity to present its winning initiatives in a future EFFC webinar, with the aim of promoting knowledge sharing across the industry.