Bachy Soletanche has been shortlisted for the Sustainability Impact prize in this year's International Quality Awards (IQA). The IQA is an annual event run by the Chartered Quality Institute (CQI) to celebrate the achievements of exceptional quality professionals and auditors across the globe. This is a fantastic achievement for Bachy Soletanche as we are one of only three applicants in the world to get shortlisted!
The CQI were impressed with our comprehensive approach to sustainability and the impactful measures we've taken to reduce our carbon footprint, which are helping us reach our target of producing 40% less direct carbon emissions by 2030.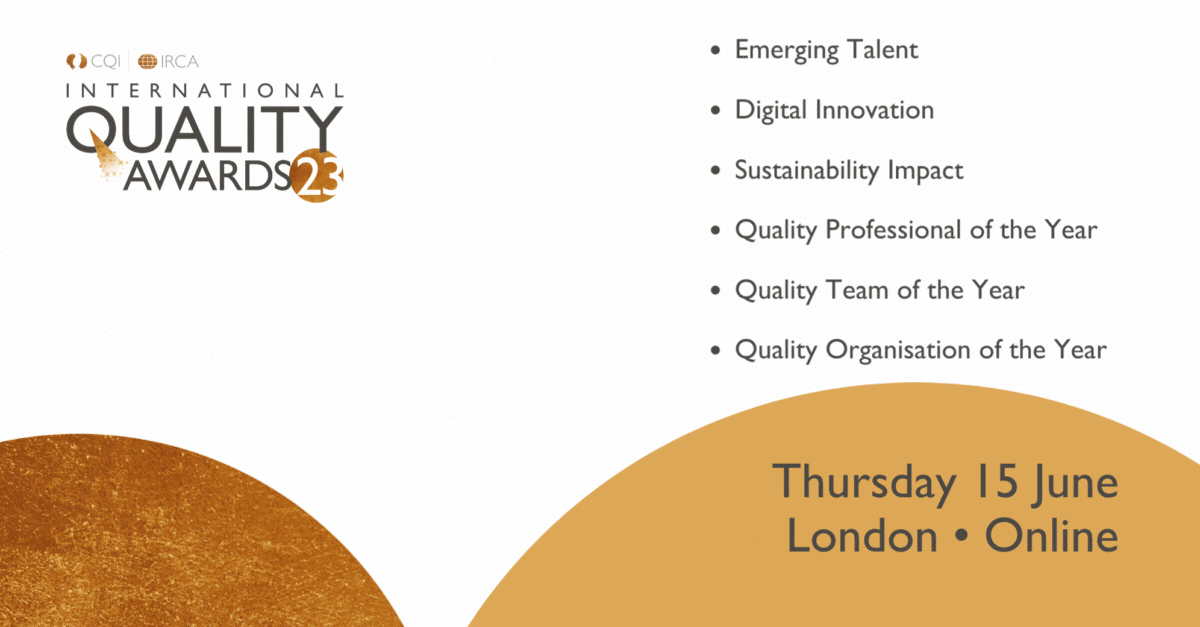 Along with several environmental initiatives, our award entry highlighted the success of a new carbon reduction strategy that we have implemented on two recent projects:
HMP Full Sutton: We piloted the carbon reduction model on this recently completed project and through proposing alterations to the client's design, we reduced our carbon emissions on the project by 33%.
Wood Wharf F Blocks: We are applying the same carbon efficiency model to the Wood Wharf scheme that we are currently delivering in Canary Wharf. With this approach, we are on track to reduce the project's carbon emissions by 20%.
Our new carbon reduction model is based on the 'DMAIC' framework, which provides a systematic approach to carbon reduction on a project level.
The strategy involves the following steps:
Define – We define the problem, setting our project goal with senior leadership support
Measure – We calculate a baseline carbon figure using the European Federation of Foundation Contractors' (EFFC) Carbon Calculator
Analysis – We analyse this baseline to identify 'carbon hotspots' – parts of the project that have a large carbon footprint
Improve – We review the design to make alterations such as reducing material or waste quantities. We work with our supply chain to source more sustainable materials and equipment. We then use these alterations to formulate an alternative baseline CO2 calculation.
Control – We implement any necessary actions on site and where required, we deliver behaviour focused training and awareness campaigns. We also analyse live carbon data to monitor performance.
A business-wide approach
As well as instilling carbon reduction on a project level, we have taken a business-wide approach to sustainability, ensuring that it is a core component of all our management systems.
Here are some of the key ways we are making this happen:
We evaluate and analyse data to highlight carbon hotspots and implement suitable action plans to address these hotspots
To further integrate sustainability into our company culture, our Managing Director, Tamas Kaltenbacher, has taken on the role of Environmental Champion. We have also formed an Environmental Working Group consisting of employees who will play an active role in our carbon reduction strategy.
Alongside the Working Group, Bachy Soletanche empowers all employees to drive environmental initiatives and innovation.
We communicate all environmental initiatives, progress and reporting to employees via our management system portal.
Commenting on the achievement, Bachy Soletanche's Group Quality, Sustainability and Environmental Manager, Dafydd Belshaw, said,
"We believe environmental sustainability is no longer a matter of choice, but a social responsibility. Being shortlisted for this award is an important recognition of our progress and an exciting milestone in our transition towards becoming a sustainable business."
The award winners will then be announced at the CQI's Quality Live event, which will be held in London on 15th June 2023. Good luck to our fellow finalists!