In celebration of International Women in Engineering Day this year, we spoke to Sophie Vicard, Geotechnical Project Manager at Bachy Soletanche, to get her thoughts on the gender balance in the construction industry, her experience in the sector and the role models that have inspired her.
What is your role at Bachy Soletanche?
I am currently leading the geotechnical works on the Thames Tideway project in London where we, Bachy Soletanche, are working as the main contractor along with Costain and VINCI Construction Grand Projets. I am looking after two sites at Deptford Church Street and Earl Pumping Station as Project Manager.
How did you get into a career in construction?
I was born in France, in the Alps. My dad was an engineer so encouraged me to pursue science. It is a very broad subject so gives you lots of options. When I was at school, I studied science and maths at A Level, followed by two years of maths, then physics and chemistry. After that, I finally ended up doing a Master's degree at the Geotechnical Engineering School.
Geotechnics has two branches: geology and construction. Overall, the gender split was probably about equal in geotechnics, but there were lots more women who pursued geology than construction – probably about 75% of women did geology.
To validate my diploma, I needed to do a five-month internship in my final year. I wanted to go to Vietnam, but came to the UK instead! After I graduated, I was offered a job by the company where I had interned and I have lived and worked in the UK ever since.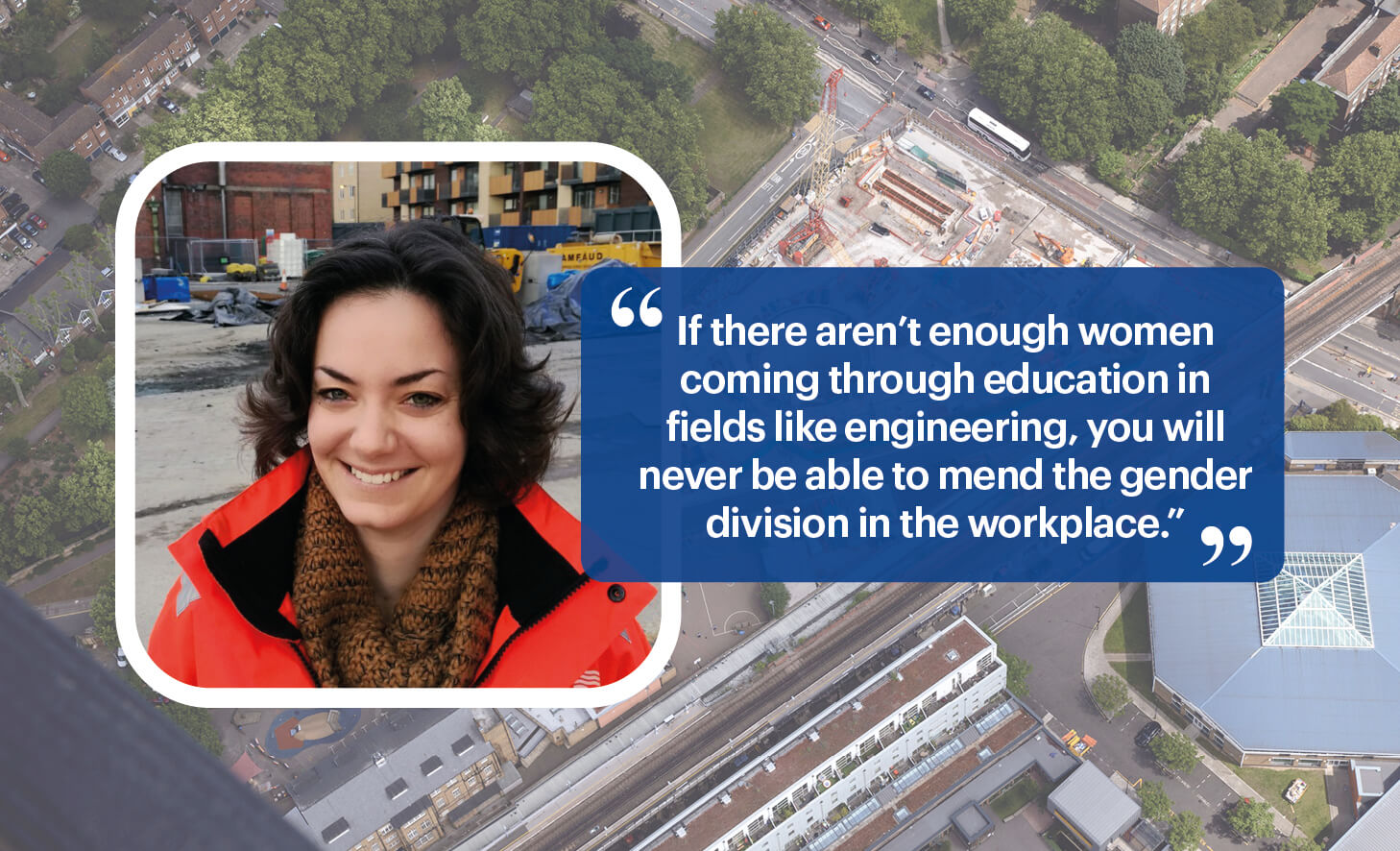 What are your opinions on the gender balance in construction?
First of all, I think the question is misleading in the way that there is a lot more to the construction industry than site-based roles . There might only be a few women wearing orange (working on site), – maybe because it is not really fashionable – but there are a lot more women in other roles within the industry than we think.
I also don't think positive discrimination is a good thing. In education, there isn't a 50:50 gender split so this will be translated into the industry. If there aren't enough women coming through education in fields like engineering, you will never be able to mend that gender division in the workplace. On projects which strive to have a 50:50 gender balance, this can be dangerous, and people might start hiring women just because they are women. At the end of the day, you need to be recognised for your skills and competence not for your gender or anything else.
Do you think your experience in construction has been different to males?
I think that as a woman in construction, I need to work hard to prove myself and my skills, but I am kind of a workaholic anyway. Through my different experiences so far, I don't believe I have been treated differently than men.
This year is a challenging step for me, becoming the Geotechnical Project Manager for Tideway – I'm also looking after a lot more than just our Bachy Soletanche works and I am only 31. I've had to climb the ladder from the bottom to get here.
Being a good listener, as well as being concerned about people, is essential. I like to look after my staff, check they are happy with their work, and encourage them to share ideas and strategies to prepare and optimise our activities. I also try my best to make sure that they develop themselves within the company or the project.
Do you think we should encourage more women into construction?
Consider this from another perspective, nursing is traditionally considered a female profession – should we be encouraging more men to become nurses?
There might only be a few women wearing orange (working on site), – maybe because it is not really fashionable – but there are a lot more women in other roles within the industry than we think.
I think it's more important to educate people about the opportunities available and then let them decide. It's good to bring young people onto sites such as apprentices and trainees, as it allows them to have a feel of our work and encourage them to choose a construction career.
Have you ever had a role model who has influenced your career?
That's an interesting question, I think all individuals are shaped by the people they work with. I consider myself a by-product of three different people I worked with at the early stage of my career and I took each of their best traits to create my own management style. However, I don't feel the need to completely identify with one person in particular. It is important keep an open mind and to never stop learning from each other.