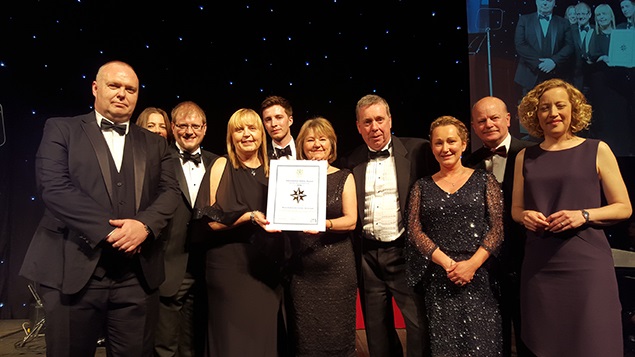 Bachy Soletanche, the piling and foundation specialists, has been crowned 'best in sector' at the 2016 International Safety Awards gala evening, hosted by the British Safety Council.
The ceremony, at Grosvenor House in London, saw Bachy Soletanche competing against 13 organisations from around the globe, including entries from Dubai, Nigeria, Qatar and the UK. The finalists had all achieved the coveted distinction status in the 2016 International Safety Awards but only one could take home the title of being the 'best in sector', for the Construction and Property Services category.
Andrew Carpenter, Bachy Soletanche's Group SHEQ Director commented:
"This award is recognition of the time and effort our employees, suppliers and customers have invested in improving health and safety throughout our business. To get where we are today, we have had to change our behaviours and the way we work. Our incident rates are at an all-time low, but we can still do more, by working together and continuing to change our behaviour we can make our work areas safe, healthy and a place where people are proud to work."
Congratulating all the winners of the 2016 International Safety Awards, Lynda Armstrong OBE, British Safety Council Chair of Trustees said:
"Our awards have a number of important roles to play. First and foremost, they recognise the achievements of the thousands of people who have contributed to your success. They also help to publicise, here and across the globe, the tangible benefits that sensible and proportionate risk management has to play in preventing ill health and injury in the workplace. In a world that is full of criticism regarding health and safety, it is good to celebrate and applaud the benefits of getting it right."
These internationally recognised awards have become one of the most sought after accolades, offering organisations the opportunity to prove their ongoing commitment to raising standards and to celebrate success.