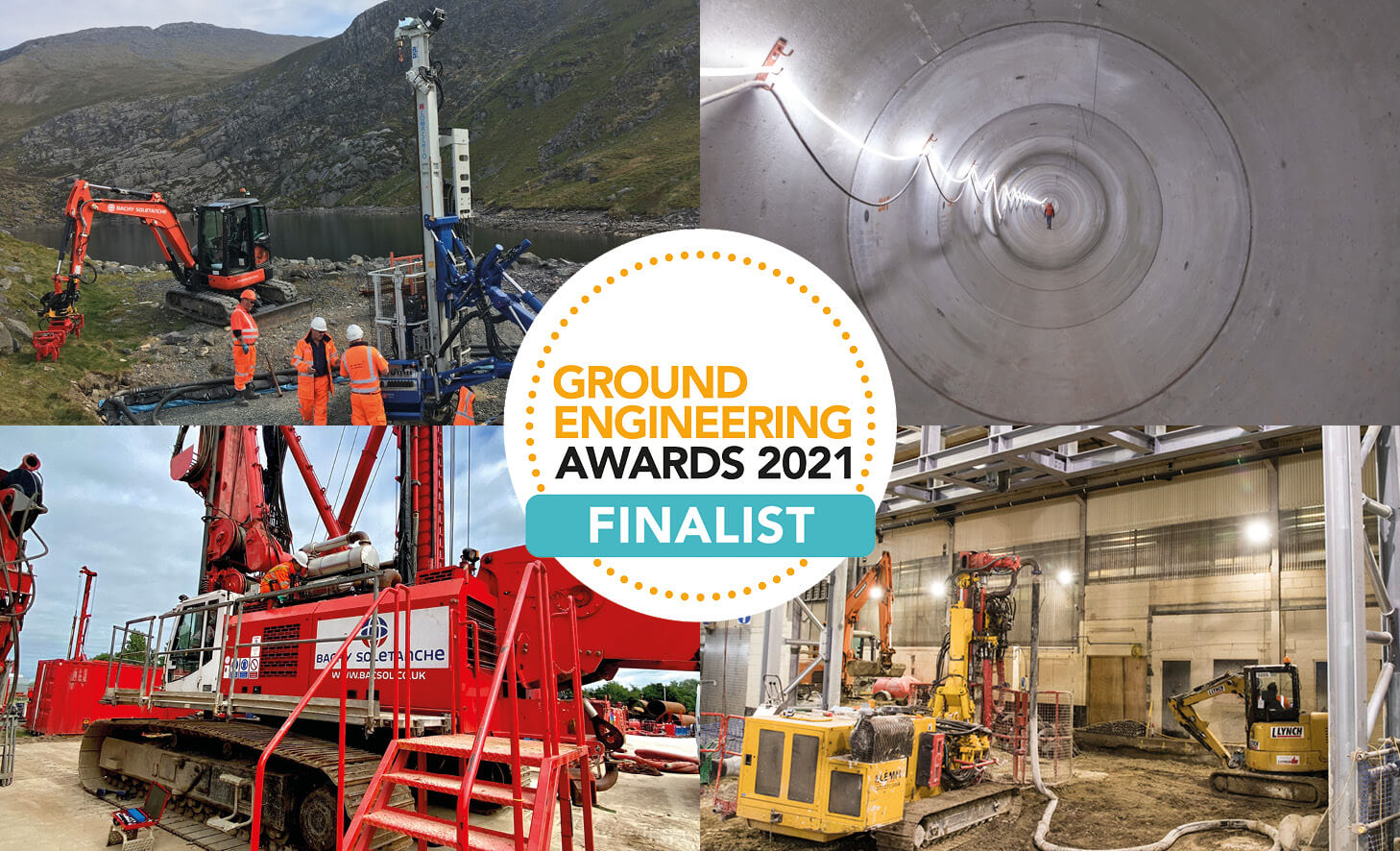 Bachy Soletanche has been shortlisted in seven categories at the Ground Engineering Awards 2021, recognising the company's continual efforts to lead innovation and quality within the geotechnical engineering industry.
The business has a total of nine entries shortlisted across the seven categories, including a number of entries submitted in conjunction with project partners.
Bachy Soletanche is competing for the Contractor of the Year award, as well as both the Equipment Innovation and Sustainability awards for its environmentally friendly cage tamp solution.  Alongside this, the business has a further four entries shortlisted, where the submissions were completed as part of a wider team. These entries are:
Technical Excellence – Bachy Soletanche, Lewis Civil Engineering and Dŵr Cymru Welsh Water: Marchlyn Bach Dam Remediation, Gwynedd County, North Wales, UK

Equipment Innovation – Balfour Beatty Plant & Fleet Services and Bachy Soletanche: Equipment Emissions Reduction

UK Project with a Geotechnical Value between £500K-£1M – Bachy Soletanche, Taylor Woodrow and RPS: Norwich Crown Point Depot Bogie Drop Pit

UK Project with a Geotechnical Value between £500K-£1M – CVBJV, Mott MacDonald, Terradat and European Geophysical Services: Thames Tideway East

UK Project with a Geotechnical Value between £1M-£3M – Bachy Soletanche, Ramboll and BAM: King's Cross Central, Building S3
In addition to the above entries, the global Soletanche Bachy group is represented in the International Project of the Year category through a BESSAC – Soletanche Bachy Chile JV entry for their work on the Guatacondo Cable Tunnel in Chile.
The highly regarded industry awards, which saw a record-breaking year for entries in 2021, recognises leaders in the field of ground engineering and celebrate companies demonstrating technical excellence, the development of innovative solutions and the delivery of outstanding projects.
Rigorously judged by an independent panel of experts, the winners of the Ground Engineering Awards will be announced at a ceremony on 23rd November 2021, at the Hilton Tower Bridge hotel in London.