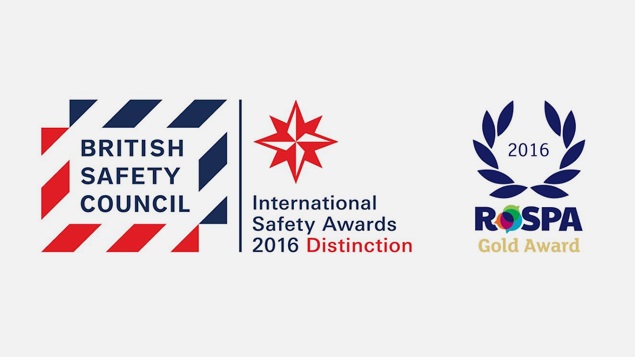 Bachy Soletanche, the piling and foundation specialists, are celebrating a double success after being awarded with two, industry leading, health and safety accolades.
The British Safety Council has awarded the company with an International Safety Award, with distinction, in recognition of its commitment to keeping workers and workplaces healthy and safe during the 2015 calendar year. This is a notable achievement for the company as only 7% of the 460 entries from companies around the world gained the coveted distinction grade, and as a result, Bachy Soletanche has been short-listed for the construction sector award – the winner will be announced at a gala dinner on 6th May at Grosvenor House in London.
Now in their 58th year, the International Safety Awards recognise and celebrate organisations of all types and sizes from around the world that have demonstrated to the satisfaction of the scheme's independent judges their commitment to preventing workplace injuries and work-related ill health during the previous calendar year.
Mike Robinson, Chief Executive of the British Safety Council, said:
"On behalf of the Trustees and staff of the British Safety Council we warmly congratulate these that have been shortlisted for a Sector Award. This is the third year we have presented the Sector Awards as part of our long-standing International Safety Awards scheme, recognising those that have been judged by our independent adjudicators as outstanding businesses in their sectors. This accolade is particularly significant since within the very high standard represented by all winners of the awards, these organisations excel in their industries."
In addition to this, the company has achieved a RoSPA Gold award (The Royal Society for the Prevention of Accidents), recognising excellence in safety performance. This is the second year running that Bachy Soletanche has achieved the Gold standard and shows an ongoing commitment to health and safety across the business.
The RoSPA Awards is celebrating 60 years of presenting highly-regarded and sought after accolades to businesses and organisations which have shown commitment to accident and ill-health prevention.
Julia Small, RoSPA's head of awards and events, said:
"To win an award at such a highly-regarded event as the RoSPA Awards is a great achievement for our winners. It recognises their commitment to maintaining an excellent health and safety record and raises the bar for other organisations to aspire to. We offer them our congratulations."
These internationally recognised awards have become one of the most sought after accolades, offering organisations the opportunity to prove their ongoing commitment to raising standards and to celebrate success.