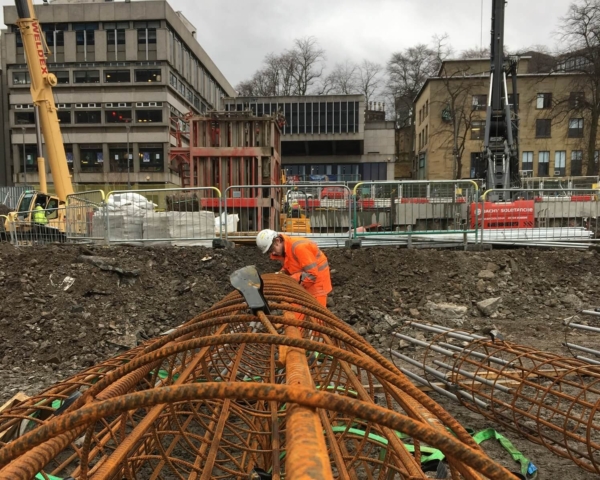 Cameron Jenkinson is a Civil Engineering Technician working in Bachy Soletanche's Northern Business Unit. Cameron is studying a Level 5 NVQ Diploma in Construction Management at Stephenson's College in Leicestershire, he is in his second year of study. We asked Cameron some questions about his role, why he chose an apprenticeship, what he enjoys about this style of learning and why someone should consider the apprenticeship route, here was his response:
I chose this apprenticeship as I wanted to further my education in the construction industry. Additionally, I had just finished two years in college studying different aspects of engineering. Bachy Soletanche offered a great opportunity to further my education to a much higher level than I had at the time. Furthermore, throughout the proposed apprenticeship I would work full time to gain as much experience as possible to promote my knowledge. Since working for Bachy I have been involved in several projects which involved a number of different techniques. This has helped me understand a wider variety of geotechnical methods of foundation works.
Throughout my time as an apprentice, I have learnt a lot, and this has to do with the block release study periods. I go to college in blocks of four or eight weeks a couple of times a year. This has been beneficial as it allows me to complete all assignment work whilst in college. Furthermore, this allows me to go back to work and solely concentrate on my work on site. This style of learning is a much better alternative to continuing education alone. I have learnt a lot through education through this apprenticeship. However, I have also been able to gain a lot of experience and knowledge on a project. Through this way of learning I also get to experience how the educational suggestions fit in with reality. It has allowed me to earn both valuable experience alongside a great variety of education, certification and qualifications.
There are several reasons why someone should consider an apprenticeship including; the opportunity it provides to further in your career, gaining the experience of working full time and gaining many invaluable skills such as communication and working as a team. My aspirations for the future are to progress through my apprenticeship as best as I can to become a fully qualified civil engineer. From there onwards I would like to be involved in the management side of the business.