From an intern in Paris to Technical Manager at Bachy Soletanche, Sivilay Sayavong has progressed rapidly through the industry, including working on one of the UK's largest infrastructure projects.  In this edition, Sivilay discusses her route into the engineering industry, the challenges she has faced, and some words of wisdom for those considering a similar career.
When you are young it's hard to know what you want to do as a career, what made you choose the construction industry?
To be honest, by chance really.  Like a lot of people, I didn't really know what I wanted to do until I finished my Classe Préparatoire aux Grandes Ecoles, the French equivalent of high school…  I knew that my career would take a scientific path as I had a keen interest in mathematics and physics, and for this reason my teachers advised me to look at the engineering sector.
Civil engineering particularly appealed to me as we can have a real impact on people's lives and serving their direct needs, for example building properties for people to live in, constructing buildings for people to work in, and building transport systems to make travel easier.  It doesn't just apply to the urban masses either, civil engineering plays a large role in developing countries around the world where it could be something as simple as creating a footbridge to enable safe access to schools and healthcare.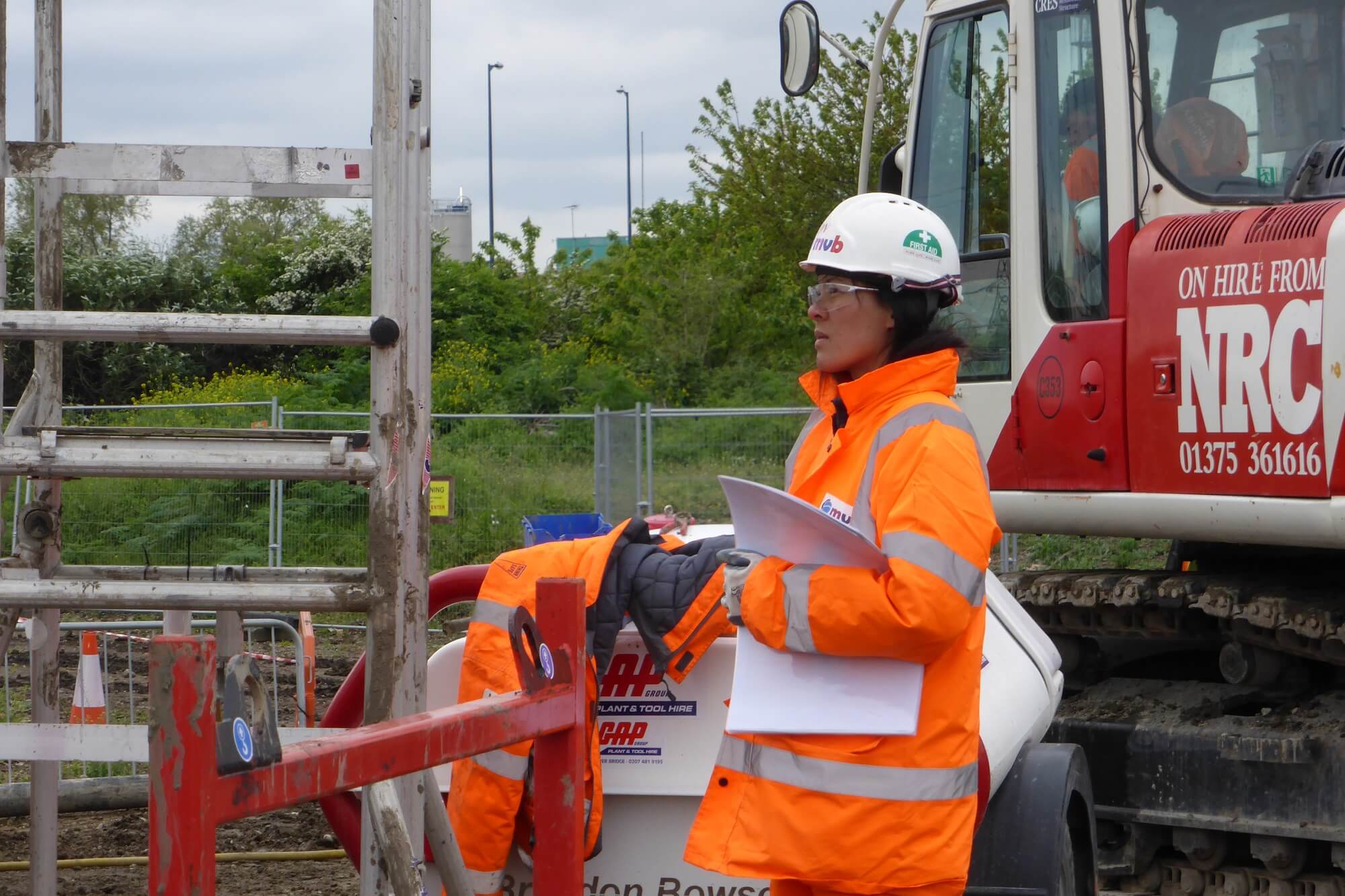 Where did you begin your career and what attracted you to work in the UK?
My first taste of the industry was with one of the world's leading construction companies, VINCI, where I undertook an internship role based in the Parisian suburb of Vaucresson. This involved site assistance to the Works Supervisor on the civil works during the construction of the A86/A13 West motorway interchange structure.
Following this I joined the global geotechnical specialists, Soletanche Bachy and worked in the Design Office on the back analysis of the behaviour of the deep water quay, "Port 2000" in Le Havre which consists of a 1.6km run of 1.2m thick diaphragm wall, 40m deep.
Civil engineering plays a large role in developing countries around the world where it could be something as simple as creating a footbridge to enable safe access to schools and healthcare.
In 2006, I relocated to the UK and joined Bachy Soletanche (the UK subsidiary of Soletanche Bachy) based in their southern office.  Over the course of the next four years I learnt about all the piling techniques that Bachy Soletanche offers to the market from CFA piling to rotary conventional bored piling, displacement piling and minipiling. I formed part of the team providing the design of deep foundations, geotechnical structures and retaining structures (bearing piles, piled walls, diaphragm walls) at tender and contract stages in the UK.
In 2010, I began working on the Lee Tunnel project as part of the MVB joint venture formed of Morgan Sindall, VINCI Construction Grands Projets and Bachy Soletanche. The UK has some fascinating geotechnical projects and provides the opportunity to develop my knowledge of different geology, working methods and cultures.
You mentioned working on the Lee Tunnel, can you tell us a bit more about your time there and what challenges you faced?
The project was a real turning point in my career and allowed me to gain valuable insight and experience of how design and construction need to work together to achieve a successful outcome. My role involved managing the detailed design of diaphragm walls to form five, exceptionally deep and wide shafts, along with the associated piling works.
In mid-2013, I felt it would be beneficial to gain site experience and became the shift engineer on site at Abbey Mills, overseeing the construction of the diaphragm walls for the fifth shaft, which was 25m in diameter and 84m deep, along with the subsequent excavation. Having previously worked on the design for this shaft meant that I could bring efficiencies to the site team through checking reinforcement cages, re-arrangement of rebar and being able to liaise with sub-contractors to work through design changes.
The following year I was given an opportunity to further develop my skills by becoming a Section Engineer.  The role involved managing and delivering the construction of the Flow Transfer System Structure, covering the piling works, civils works and MEICA requirements.  This was a new challenge and one in which my geotechnical training allowed me to utilise a number of transferable skills including: programming and planning; client liaison; budget management; management of subcontractors; and monitoring and reporting.
My experience from the Lee Tunnel was undoubtedly of benefit and I was able to share my knowledge with the rest of the team.
As with any project, there were a number of challenges to overcome and a number of relationships to be built, developed and maintained.  Working as part of a joint venture team and interfacing with the client, Thames Water, it was important to build strong relationships and have regular programme and planning meetings.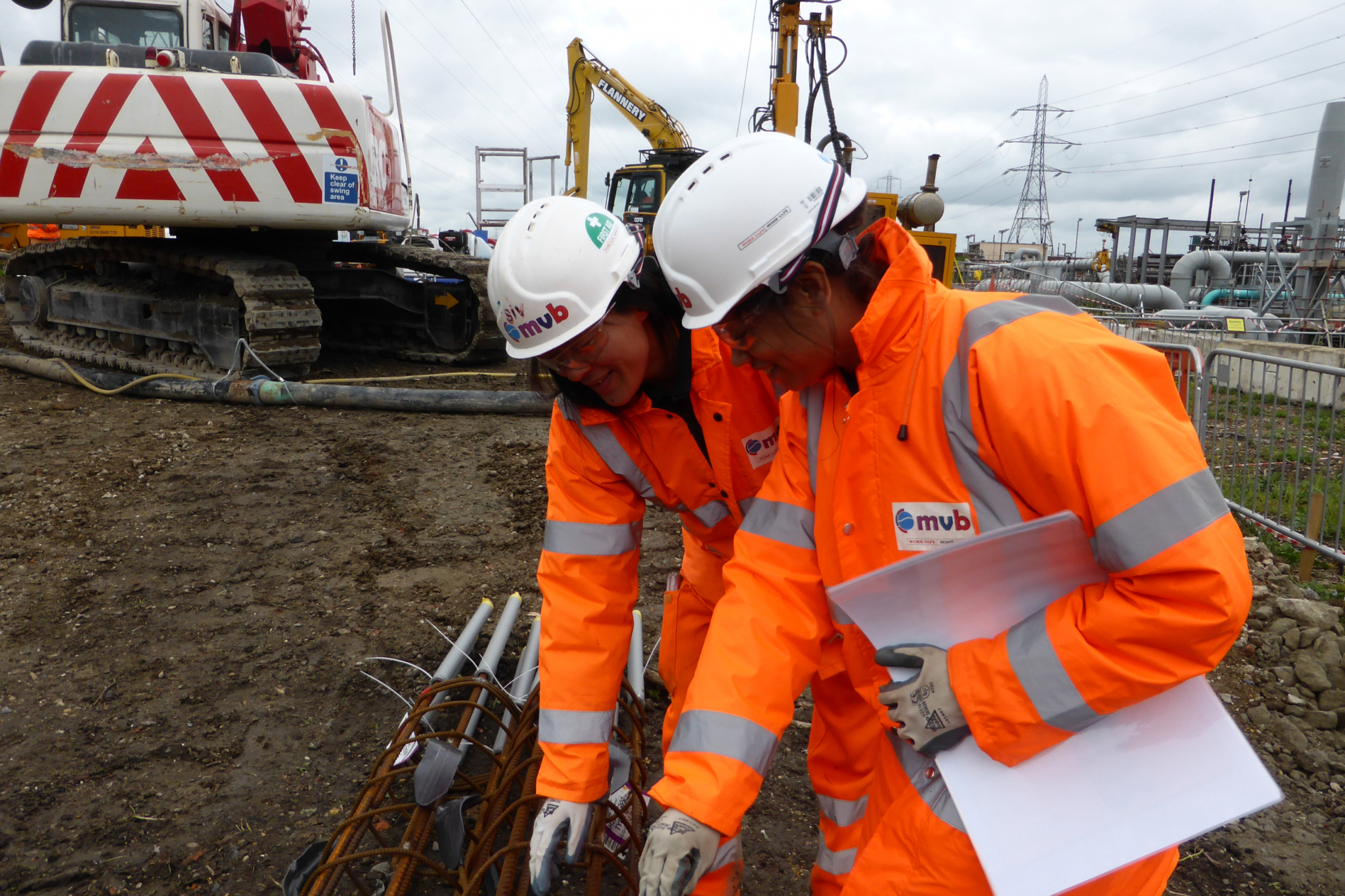 Following on from your involvement at the Lee Tunnel, you worked on the Tideway East section of the Thames Tideway Tunnel.  Can you tell us about the scheme and what part you played in helping to deliver this flagship project?
The Thames Tideway Tunnel was a 25km interception, storage and transfer tunnel running up to 65m below the River Thames.  A joint venture of Costain, VINCI Construction Grands Projets and Bachy Soletanche were responsible for delivering the East section of the project. This included the construction of a section of the main tunnel (5.5km long, 7.2m dia.) and a connection tunnel (4.6km long, 5.0m dia.) at depths of between 45m and 65m below the ground. In addition to this, the team constructed five access shafts using diaphragm walls to a depth of 72m.
At Thames Tideway I worked as the Geotechnical Design Coordinator and was responsible for a range of areas including managing the design of the five access shafts, along with all the associated piling and retaining walls for the combined sewer overflow structures and river wall structures. I was also in charge of coordinating the design team in the UK and overseas, being the geotechnical interface between the construction teams and the lead design consultants, and ensuring temporary works for the geotechnical elements were identified and designed in liaison with the construction manager and temporary works coordinator.
As with any project, we were working to a challenging programme, which required close working relationships across the whole supply chain.  My experience from the Lee Tunnel was undoubtedly of benefit and I was able to share my knowledge with the rest of the team.
The Thames Tideway Tunnel was a fantastic opportunity to further my skill set and develop my career in the construction industry.
We delivered all the design works successfully and now we have just two geotechnical assets left to complete. I am also currently spending a small proportion of my time providing site support to the project, which is still ongoing.
As Technical Manager, what are you currently working on?
In 2020, I was promoted to Technical Manager for SB3 – a joint venture between Soletanche Bachy and Balfour Beatty Ground Engineering – who are delivering the geotechnical works for the new HS2 railway line. Our work is at the N1 and N2 portals and my role involves being responsible for all the technical aspects of all assets, including the technical and constructability review of the client design for diaphragm walls or piles in line with the challenging programme requirements. I am also overlooking the design team, the BIM team and the material team, as well as ensuring the temporary works procedure is exerted at site level.
The technical team is composed of approximately 15 people and every single one of them is valuable and invested in putting our strategy into action.
Thank you for your time, just before you go what advice would you give to anyone wanting to get into the construction industry?
You have to be passionate and open-minded!  Be willing to learn and discover new ways of doing things, don't always rely on what you know and don't be afraid to challenge your peers.  The construction industry is forever evolving and innovating, it's a fantastic sector to work in!