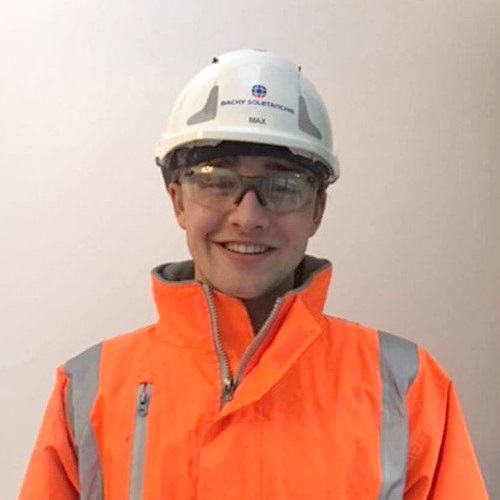 Maximilian Lawrence is a Civil Engineering Technician working in Bachy Soletanche's Southern Business Unit. Max is studying a Level 5 NVQ Diploma in Construction Management at Stephenson's College in Leicestershire, he is in his second year of study.  We asked Max some questions about his role, why he chose an apprenticeship, what he enjoys about this style of learning and why someone should consider the apprenticeship route, here was his response:
I chose an apprenticeship with Bachy Soletanche because I was interested in getting into construction and like to see my work making a difference to the world around me. I chose Bachy Soletanche specifically because it is an internationally recognised organisation with opportunities for mobility in the future. My current role is as a Civil Engineering Technician, this means I am on site dealing with designs, paperwork and quality of onsite work.  My favourite part of this work is looking at design. Whilst I spend a lot of time onsite, I also love to go back to the office and see the reasons for why we do things a certain way. In the future I would like to become an engineer/manager. I am really interested in moving abroad and working in a variety of different countries.
I currently study on a block release basis (3 blocks of 4 weeks a year). I enjoy studying this way as it means I can go to college to learn, and then apply what I have learnt back at work. This also works the other way around, as often it's easier to understand what is happening with the college work if you have seen it first on a site. I think an apprenticeship is a great career path for anyone to consider. An apprenticeship allows you to get the qualifications you want whilst also getting valuable experience. This can often put you ahead of the competition as experience can outweigh qualifications in this industry sector.