UK-based geotechnical specialist Bachy Soletanche has developed and tested an efficient low-carbon grout mix solution for use in cut-off wall construction. Over the past year, Bachy Soletanche has trialled 32 low-carbon binders for potential use in two cut-off wall construction projects: the Lowdham Flood Alleviation Scheme, led by Jackson Civil Engineering, and the Arne Moors Flood Defence project, led by Kier Construction.
The aim of the trials, which were part funded by the Environment Agency (EA), was to investigate if the latest cementitious binders could be used to reduce the environmental impact of the cut-off wall construction process. Both sets of trials investigated the suitability of these mixes for use with Bachy Soletanche's Trenchmix® method.
Bachy Soletanche was tasked with developing mixes that not only offer an effective low-carbon solution, but meet the strength, durability and permeability requirements for use in the cut-off wall process. Both projects required a grout mix with a target compressive strength of 1 MPa and a target permeability less than or equal to 1×10-8 m/s at 28 days.
Using its in-house laboratories in France, Bachy Soletanche trialled binder mixes ranging from pure CEM I (100% Portland cement), which was the reference mix design, to binders containing up to 95% ground granulated blast-furnace slag (GGBS). Bachy Soletanche also trialled the use of other by-products from the industry, including fillers and alkali-activated materials.
All the cement replacement alternatives investigated by Bachy Soletanche offer a much lower carbon footprint than traditional CEM I concrete.
Results
Bachy Soletanche's trials demonstrated that the cement replacements routinely used in concrete production (GGBS, fly ash and fillers) can be added to the grout mixes used in deep soil mixing solutions, such as Trenchmix, to reduce carbon emissions.
During Bachy Soletanche's trials for the Lowdham scheme, two low-carbon mixes were deemed appropriate for use in cut-off wall construction: a CEM III/C mix and a mix containing an optimised ternary blend of GGBS, CEM I, and limestone filler. Bachy Soletanche calculated that these mixes have a carbon footprint approximately six times lower than the reference mix.*
Bachy Soletanche's trials for Arne Moors concluded that there were three mixes that met both the environmental and performance requirements: a mix of pure CEM III/C, a CEM III/C mix blended with limestone filler and a mix of pure GGBS combined with an in-house activator. These mixes had a carbon footprint two to five times lower than the reference mix.*
*All carbon savings are based upon current Environmental Product Declaration (EPD) figures.
Bachy Soletanche's trial report noted that the different properties of the soil on a site will impact the mix performance. Therefore, thorough ground investigations and laboratory trials such as these must be carried out for any future cut-off wall projects wanting to incorporate these mixes. Conducting these trials will help identify what is attainable for each site, depending on the project specification.
The geotechnical specialists also highlighted that anyone wanting to incorporate these low carbon binders on their cut-off wall project should consider extending the specified curing lengths beyond the traditional 28 days, where possible.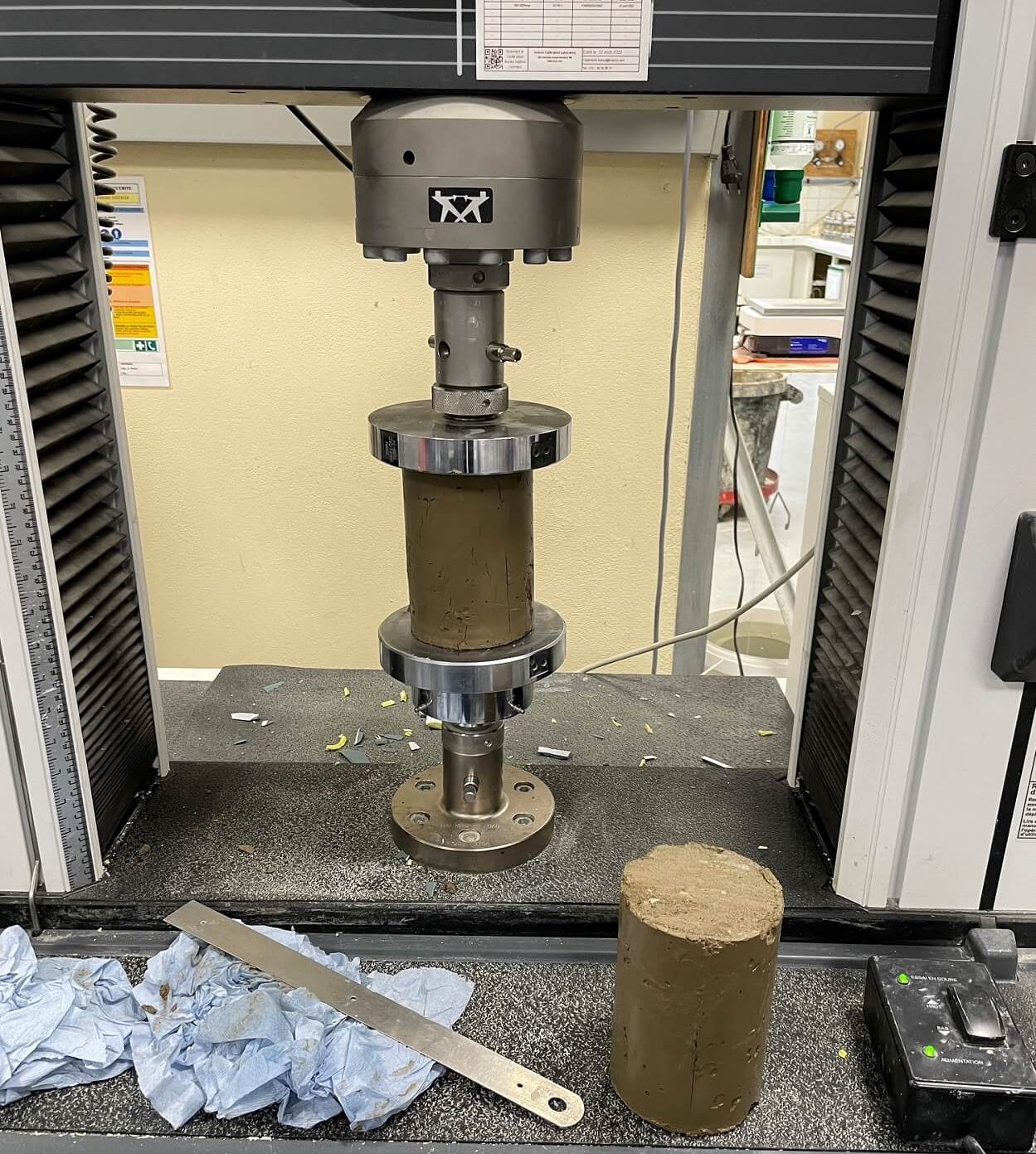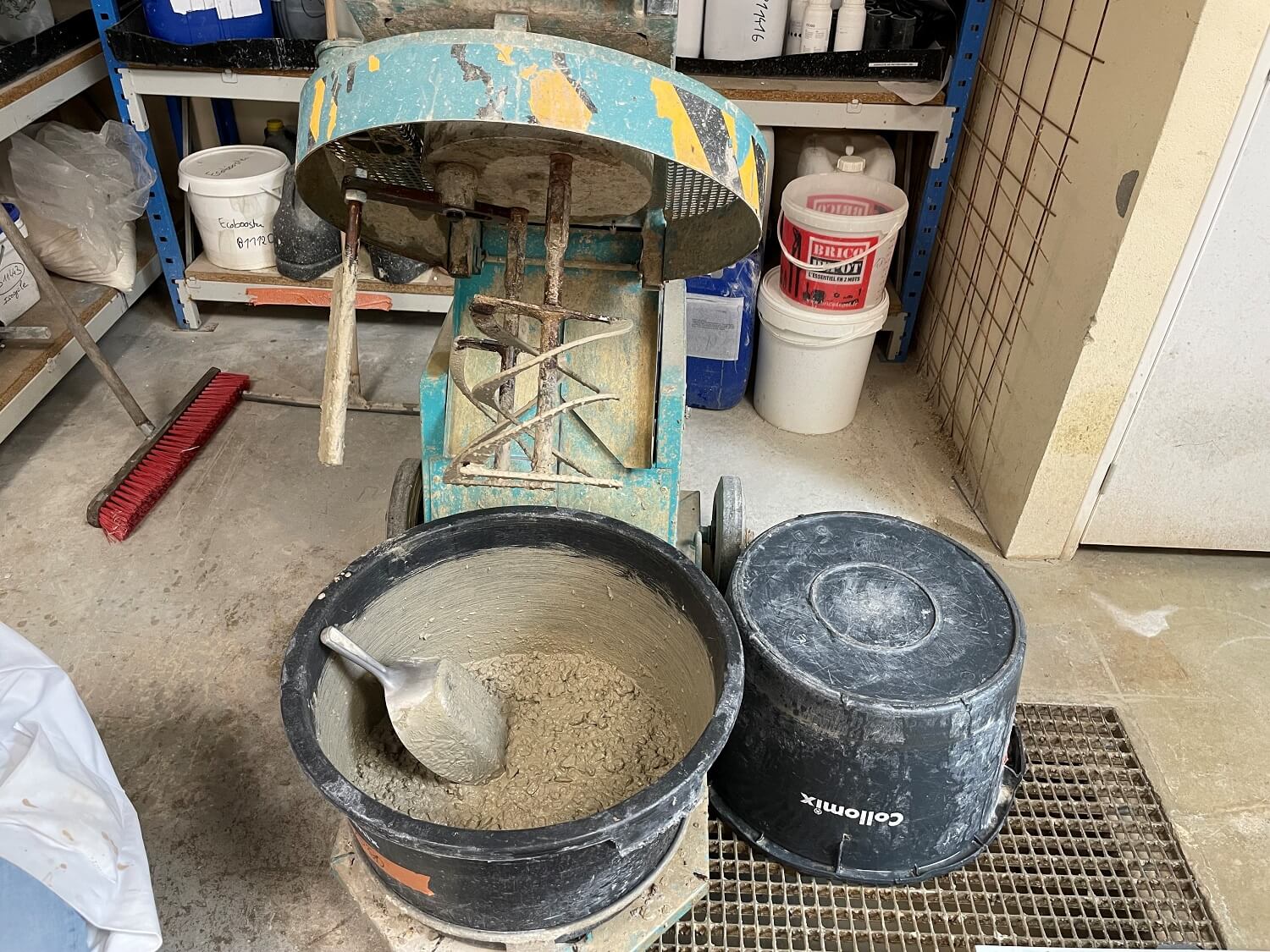 Wider application
Bachy Soletanche concluded that its low-carbon mixes could be used with the Trenchmix® method at the Arne Moors site. Whilst the low carbon mixes would also be appropriate for use on the Lowdham scheme, the use of the Trenchmix® technique has been discounted on this site due to the variable rockhead profile.
Regardless of whether this solution is used at Arne Moors, Bachy Soletanche's findings are highly valuable to the industry.
Both the Lowdham and Arne Moors schemes will be able to use Bachy Soletanche's findings to inform their project specification and design, thus helping them to achieve the necessary carbon emission targets set by the Environment Agency.
Furthermore, Bachy Soletanche will be able to use the results from these trials to develop sustainable mix designs for future projects involving deep soil mixing. This will be particularly beneficial for schemes that must comply with Environment Agency permits, such as projects involving landfill sites or mineral extraction facilities.
 Beyond the Trenchmix® method, Bachy Soletanche can apply these laboratory-tested low carbon binder mixes to many of its other specialist soil mixing solutions, including:
Colmix® – Colmix® is the most traditional soil mixing technique where a piling rig is used to combine cement grout with in-situ soil to construct deep soil mixing columns. Colmix® has several applications including hydraulic cut-off walls, retaining walls, gravity walls and soil improvement solutions.
Geomix® – Geomix® provides a cost effective and more sustainable soil mixing technique for cut-off walls, retaining walls and soil improvement. This solution combines deep soil mixing with Hydrofraise® technology to form cement-soil barrettes.
Springsol® – Springsol® is a soil mixing solution that constructs small diameter cement-soil columns using either a fixed or open tool. It is ideally designed for underpinning, as well as confined and restricted headroom locations.