2022 was a pivotal year in Bachy Soletanche's sustainability journey, with many exciting innovations and initiatives established across the business that are creating long-lasting environmental benefits. To mark Earth Day 2023, we are sharing some of our most recent environmental achievements, as well as the next steps we are taking in our carbon reduction journey.
With these advancements, we are confident that we will reach our target of 40% less greenhouse gas emissions by 2030.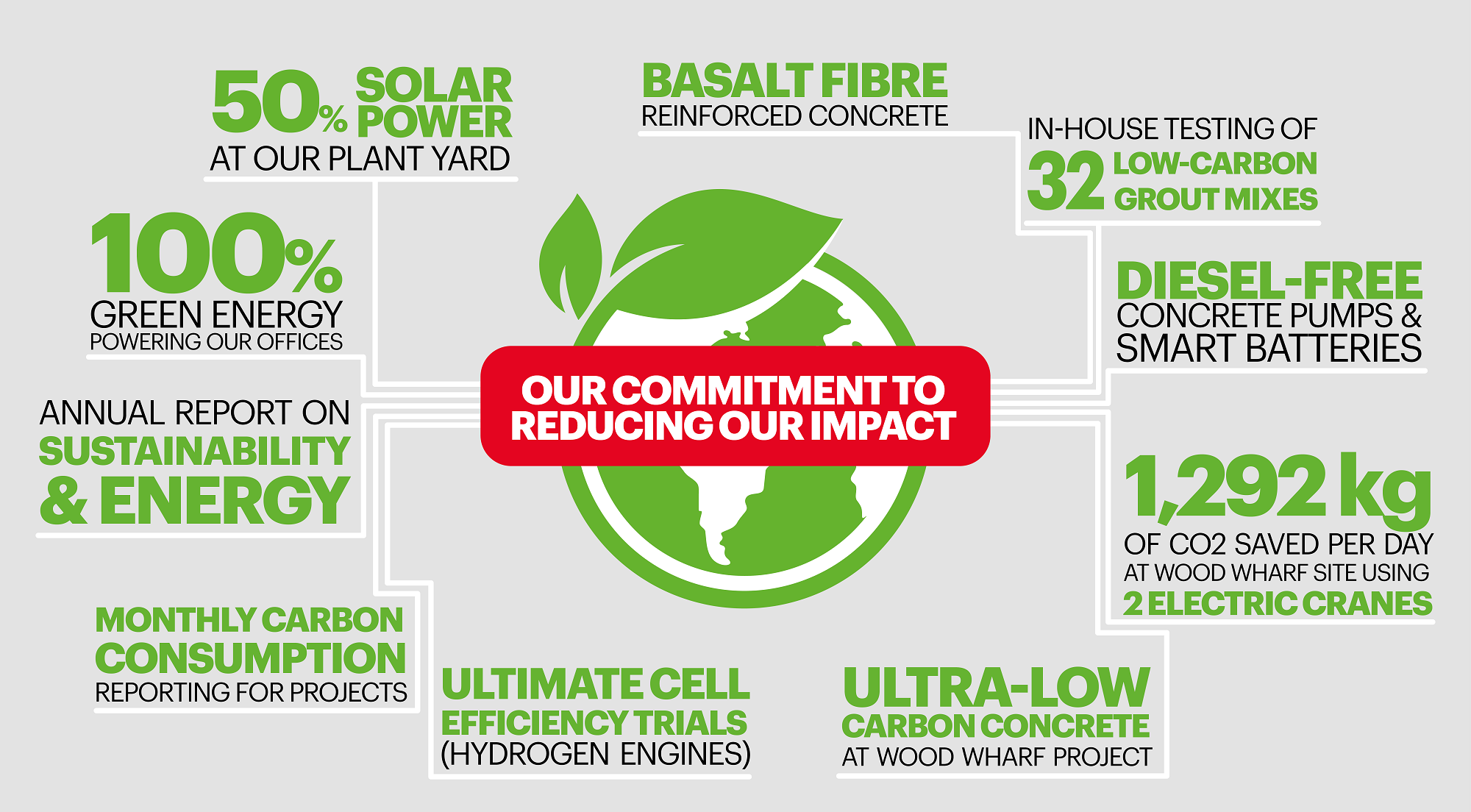 1. Energy efficient offices and plant yard
We recently moved away from natural gas and made the switch to 100% green energy in all our offices. This means that we use energy generated from wind, solar and hydro sources. As well as reducing greenhouse gas emissions, using more renewable energy is crucial as it helps to diversify our energy supply, thus reducing our dependence on imported fuels.
As well as making our offices more energy efficient, we are also taking action to integrate renewable energy at our Plant Yard. This year, we plan to integrate solar PV (photovoltaic systems) systems at our Plant Yard, with the aim that this will provide 50% of its energy supply. This would offer a 13% reduction in the Plant Yard's annual CO2 emissions, as well as a £42,000 annual cost saving.
2. Carbon management and reporting
Comprehensive reporting on our projects 
Since 2022, we have been using the EFFC's (European Federation of Foundation Contractors) carbon calculator to track our carbon consumption throughout the entire length of each project. We use the calculator at the beginning of each project to formulate a baseline CO2 figure, which we use to highlight any carbon hotspots. We then look at solutions to reduce the carbon footprint in these areas, formulating an alternative CO2 calculation.
One of our most exemplary projects in carbon management and reporting that we delivered last year was the HMP Full Sutton scheme. To support our client in achieving their sustainability targets, we completed detailed reports on fuel monitoring and carbon emissions, as well as reports on water consumption, construction waste and material usage.
Through our efficient monitoring and resource management, and our geotechnical design alterations, we were able to cut our embodied carbon emissions on the project by 33% against the conforming scheme. After the success of this project, we will be applying a similar carbon reduction strategy to as many future projects as possible.
Business-wide analysis of carbon emissions
To support our recent advancements in carbon monitoring, Bachy Soletanche is introducing the Harmony ERP (enterprise resource planning) system, which is a business management software with integrated carbon reporting. With this software, we will be able to see the carbon footprint of all purchased materials, which will be an important step towards making our carbon reporting process easier, more transparent and more reliable.
Later this year, we will also be developing our first ever fully comprehensive Annual Sustainability Report. This will expand on our current carbon energy report to include all aspects of sustainability, including social and economic factors (diversity, social value etc.).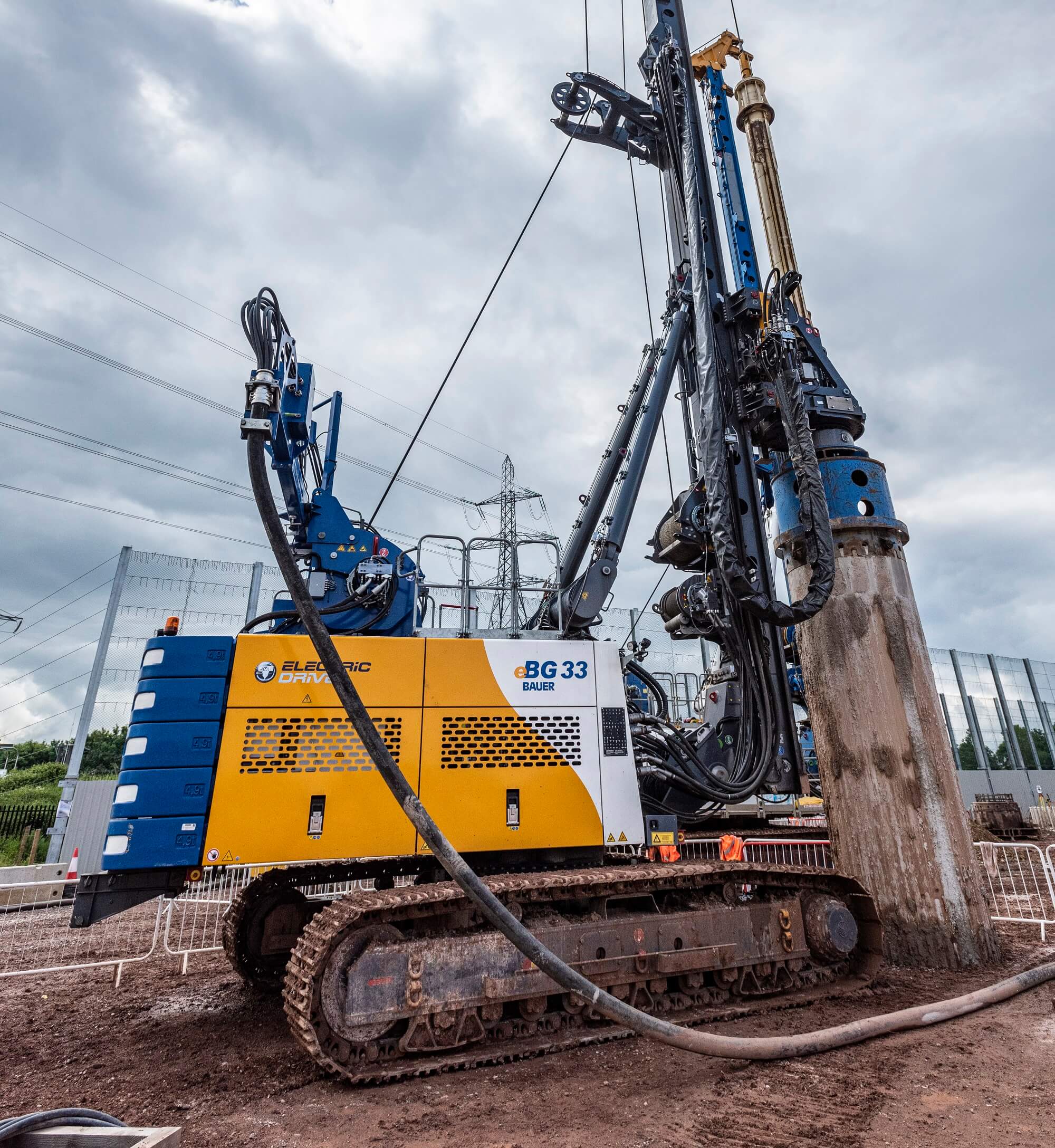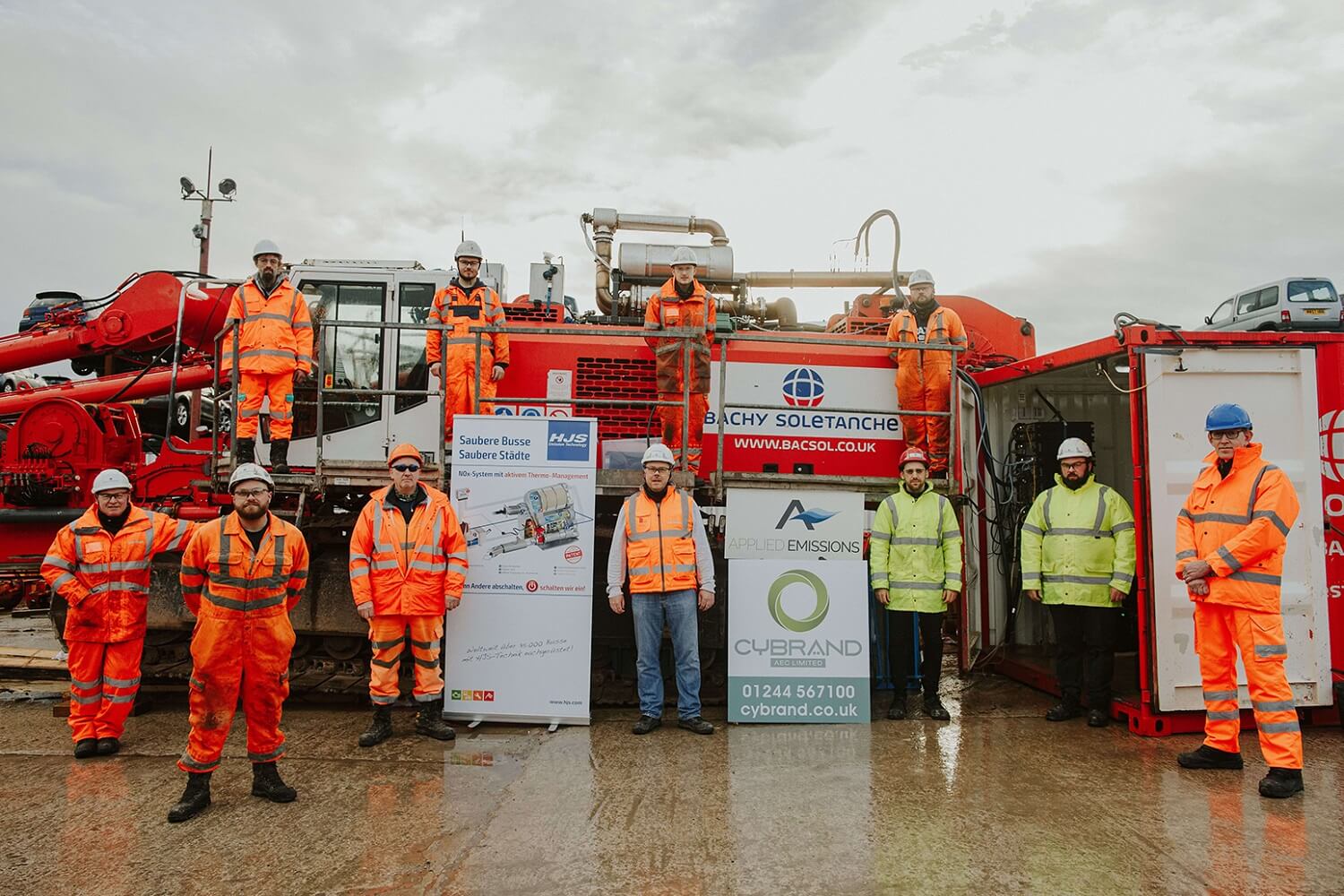 3. Electric vehicles and plant
Making the switch to EV
Currently, just under 30% of our fleet vehicles are electric or hybrid – and we plan to keep increasing this number. We have recently ordered a further nine electric vans to replace our ICE (internal combustion engine) vehicles. It's estimated that each electric vehicle produces 17-30% less carbon emissions than those that run on petrol or diesel.
To support the transition to more electric vehicles, this year we installed our first 10 electric vehicle (EV) charging points, including six at our Plant Yard and four at our Camberley office.  We aim to steadily increase this number as we expand our fleet of electric vehicles.
First use of electric plant
In 2022, we trialled electric plant for the first time ever on our projects, including the use of the BAUER eBG33 electric rig on one of our HS2 sites. The eBG33 is the world's first all-electric, high-capacity drilling rig and produces 1,300kg less CO2 per day than a traditionally powered rig.
Further to this, we currently have two electric cranes in daily use on our Wood Wharf F Blocks project, which have saved 173kg of CO2 so far. The CO2 saving gained from using an electric crane is equivalent to removing 17 cars from our roads each year.
To add to these benefits, electric cranes save on average £77 per day in energy costs, create almost no noise and emit no pollutants into the atmosphere (such as nitrogen oxides, sulphur oxides and particulate matter).
 Trialling diesel-free CFA equipment
As well as introducing electric cranes and rigs onto our projects, we are currently trialling the diesel-free CFA concrete pump and agitator setup, Enertainer by Ampd Energy. Enertainer uses a smart battery system to replace the traditional diesel generator found in CFA concrete pumps and agitators, which reduces direct carbon dioxide, nitrogen oxide and particulate matter emissions. It's also 30x quieter than a diesel generator.
If successful, this equipment would greatly reduce the environmental impact of the frequently used CFA piling technique as it would effectively remove two diesel engines from the CFA process. In addition to this, Enertainer is ideal for off-the-grid and remote projects as it doesn't require the installation of an electrical substation.
4. Hydrogen fuels
As part of a collaboration with Zemo, Bachy Soletanche and Roger Bullivant are carrying out a formal trial to explore the effectiveness of using HVO fuel to power piling rigs.
We are currently conducting trials of Ultimate Cell, a hydrogen-based technology that is retrofittable to the internal combustion engine of any piling rig. The Ultimate Cell generates hydrogen that gets injected into the engine's carburettor. The hydrogen acts as a catalyst adding an alternative energy source to the engine, providing a reported 18-38% reduction in diesel fuel consumption.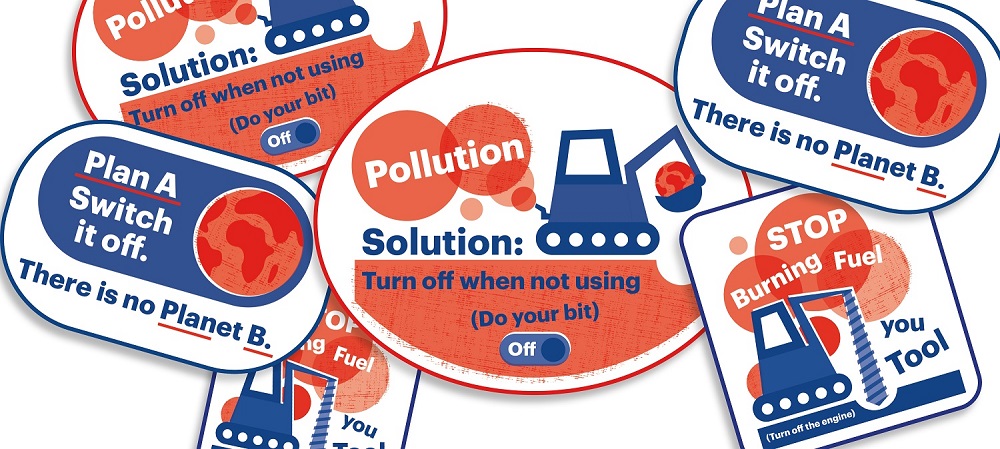 5. Low-carbon materials
Investigating ultra-low carbon concrete
In 2022, we trialled various ultra-low and low carbon concretes, including Earth Friendly Concrete on our Wood Wharf project and Ecocem CEMIII/C on our Euston Station Compensation Grouting project.
Using our in-house laboratories in France, we also conducted scientific investigations of 32 low-carbon grout mixes for two Environment Agency funded cut-off wall construction projects. These mixes included GGBS, as well as uncommon binders such as limestone filler and alkali-activated material. We will be able to apply our findings from these trials to develop ultra-low and low carbon mix designs for any of our future projects involving cut-off wall construction.
Sustainable sheet piling at Wood Wharf
At Wood Wharf, Bachy Soletanche is using the ArcelorMittal EcoSheet Piles™ to construct a cofferdam, which offer an approximate 80% reduction in embodied carbon compared to regular cold formed steel sheet piles (520kg vs 2,440 kg CO2e).
The EcoSheet Piles™ are made from 100% recycled material that is produced within an Electric Arc Furnace (EAF), which makes them a sustainable alternative to the carbon-intensive furnaces used in traditional steel production. Steel sheet piles are also fully recyclable and can be safely reused several times in temporary applications, which means they play an important role in the circular economy.
With these environmental solutions, we are on track to reduce total carbon emissions at Wood Wharf by 20% (scope 1, 2 and 3).